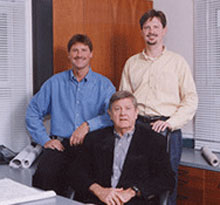 Brownlow & Sons came into business in 1945 following the return of Roy Brownlow from his navy service during World War II.   Roy and his father joined forces to start a renovation and remodeling company in the Atlanta area. As time passed, other Brownlows would join the company: Dean Brownlow in 1954, Chuck Brownlow in 1980 and Mark Brownlow in 1983.
Chuck and Mark now represent the third generation of Brownlows to run the company. Under their leadership, the company has grown significantly and is now known as one of the most prominent construction and re-construction firms in the Atlanta area. Chuck Brownlow, President, and Mark Brownlow, Vice President, are the current leaders of the company today.
What does this history mean to you, our client? We have demonstrated, over the years, that our quality and name mean something. We have the knowledge and the ability to work with you, regardless of the project you have in mind. Companies just don't stay around for generations without a good name and reputation behind them.  Some  of our clients have worked with us starting with their parents. That longevity and commitment to quality is what keeps us in business.
Contact Brownlow & Sons today for your renovation needs.