Whether your project is in the dream stage or captured on detailed, architectural drawings we're ready to meet with you. This will begin a process which will result in presenting you with a detailed, realistic cost proposal. However, much interaction is necessary to ensure your vision is combined with our expertise in functionality, plausibility and cost vs.value issues.
Upon receiving your proposal, our professional who is with you during the estimating process and who will be directly involved in any resulting project management, will be ready to answer any questions you may have. From here, we're ready to serve you, our client.
view our completed remodeling project gallery
Open communication, project management, conforming to your schedule and budget; all part of the Brownlow
process.
Attics
We provide total and complete solutions for attic remodeling. If you're tired of balancing on beams while ducking into your attic, we can install flooring, drywall, and ceilings. We can turn your old storage area into a functional and usable room.When remodeling attic space, it's important to think about the intended function. Will this serve as another bedroom? An office? A bonus room? Perhaps you still want to use it as storage but want to be able to walk through it without hitting your head on exposed beams?
Attic Renovations
Attic Additions
Attic Conversions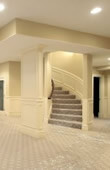 Basements
Basement construction is a large task to take on yourself. That's why you shouldn't try! With so many complex aspects to look after, it's always best to hire a professional basement remodeling company to get the job done right. Remodeling basement space doesn't have to be something you agonize over. You decide what you want done and what you want the end result to look like then we go to work making your vision a reality.
Basement Renovations
Basement Additions
Basement Conversions
Basement Waterproofing

Sunrooms
We offer comprehensive sunroom remodeling services that bring your sun room into the twenty-first century. We'll redo the windows, add insulation, and install new flooring. At the end of the day, sitting in a sun room should allow you to enjoy the beauty of the outdoors while experiencing the comfort of indoors.We can even install a brand new room on your home. Our sunroom construction services allow you that option. Or, we can install a sunroom extension to give you more room to enjoy those perfect sunny days.
Sunroom Construction & Remodeling
Patio Rooms
Room Additions

Porches
At Brownlow & Sons, we make porch remodeling a simple process from start to finish. We can fix up your old porch or you can hire us for all new porch construction to start from scratch. It's up to you, but we'll live up to your high level of expectations, regardless. Whether you need new porch awnings or porch railings installed or just a general remodel, we can bring your unique vision to life.
Porch Renovation & Additions
Screen Rooms
Patio Enclosures
Decks