Which project or service can give your home the biggest "bang for the buck?" What can change the look and feel of your house or family room? What can instantly refresh a home or room and make it seem brand new? Painting. It's easily one of the simplest ways to change the look and feel of a room or your home easily and quickly. This includes both interior and exterior painting.
Brownlow & Sons takes painting projects very seriously. Our painting division, staffed by in-house employees (no sub-contractors) has been one of the pillars of our company since the very beginning. Our painting division has served metro Atlanta through the decades as many individual painting companies have come and gone.
In addition to just wanting a color change, the process begins many times with your noticing of some small telltale signs – faded, discolored, mildewed or peeling paint.
Upon scheduling an appointment with and meeting our employee who is directly involved in the management of your painting project, your desires will be combined with our explanation of the process, plus recommendations to achieve the optimum finished product.
We'll also point out any areas in need of repair or that fall into the category of what we call "minimum maintenance requirements". This category includes items that; if left alone, will certainly cause more damage to your home. An example of this would be the replacement of rotten wood or addressing what is causing this type of damage such as improper water flow from roofing or gutters.
Our written cost proposal will include details regarding the preparation and finish application processes which are customized to your home's specific needs, items in need of repair or any other cosmetic changes you would like addressed.
Uncompromising standards of prep and finish work, the best products, project management and the Brownlow & Sons warranty are all included in a Brownlow & Sons paint job.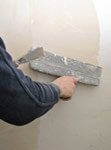 Spackling & Wall Repair
Spackle and wall repair is an important part of any renovation project. When done correctly you will be left with beautiful, smooth and seamless walls and ceilings.
Drywall installation
Taping
Plastering
Spackle sanding
Wallpaper removal
Wallpaper installation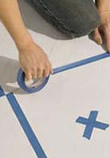 Floor Painting
We provide custom services for your flooring and tile. Painting these surfaces might seem like a difficult task, but our company strives to make it look easy. As much of an inconvenience as it could be to have your floor painted, we try to make the process as simple as possible. By adhering to a strict timeline, you won't have to worry about walking through wet paint on your way in the door when you get home from work.
Tile painting
Garage floor painting
Concrete staining, painting and stamping
Basement floor painting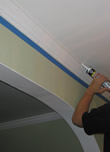 Caulking
When remodeling or painting the exterior of your home, it's important to evaluate the caulking you currently have. Is it chipped away? Has some of it fallen out? Do your windows rattle? If you've answered yes to any of these questions, you will need to have the old caulking replaced or repaired.
Repair damaged caulk
Remove old caulk
Apply new caulking around windows and areas to be sealed