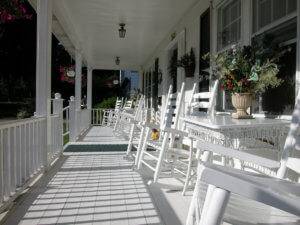 Most of us appreciate the beautiful architecture and culturally inviting front porches in and around Atlanta. In true southern tradition, front porches in Atlanta are more than an entryway or small portico. They are awe-inspiring and make us want to sit down with a glass of sweet tea (or something with a kick) to have a friendly conversation.
A front porch on your metro Atlanta home needs to be a special, but an informal place for you to relax in the morning or unwind the end of a busy day. It is a place where you can slow down for a few moments, wave at your neighbors walking their dogs and have your quality of life restored. Entertaining and visiting with families, friends and neighbors are often more enjoyable in the casual setting of a front porch. Whether you're alone or with others, your front porch is a unique space that adds value to your home and a stress-free zone for your soul.
Here are some ideas to help you dream about your existing front porch or front entryway to upgrade and create your home's value and living space:
Add on to an existing smaller porch to have more room for a few rockers along with a swing or hammock.
Create a whole new porch for a wonderful outside space to enjoy with lots of seating options to match your mood.
Install screens to keep the bugs and birds out.
Install windows with screens to reduce the pollen dusting and create a three season room.
Add shutters or outdoor drapes to cover screens or windows for a more private space.
Add architectural accents to existing porch lines and columns for traditional southern touches.
Replace boring concrete with natural stone walkways and steps.
Install new railing and columns to really make a wow statement.
Add or replace ceiling fans for quiet air circulation.
Add lighting around the ceiling interior for a soft, relaxing glow.
If you've decided to age in place or have an elderly or disabled loved one coming to live with you, you'll need to add an accessible wheelchair ramp as part of your front porch project. You can trust that our designers and engineers at Brownlow & Sons will complete the work in compliance with Americans with Disabilities Act and any zoning requirements. We'll be also certain to determine the best location of the new entryway to blend the ramp with the style of your home.
The team at Brownlow & Sons is ready to help make your dream front porch a reality for you to enjoy for many, many years to come. With 70+ years working with Atlanta homeowners, we are experts at designing and crafting a southern front porch just for you. Let's get some sweet tea and sit down to talk. Contact us today.