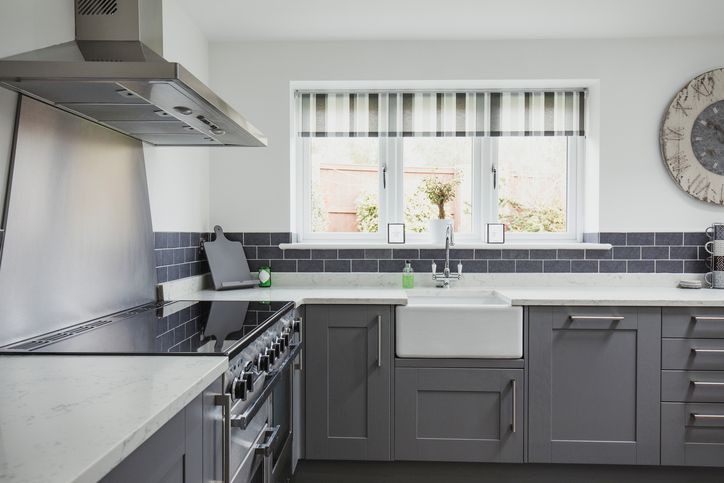 Was your metro Atlanta home one of many built during the 90's and 80's? We were a booming city with a sprawling suburban residential growth over those two decades. The total number of residents in the metropolitan area doubled from 2 million in 1980 to more than 4 million in 2000.* In fact, the Atlanta, Sandy Springs and Marietta area was one of the fastest growing metropolitan areas in the nation with an astounding residential increase of 38.4% between 1990 and 2000.**
Many homes built during this economic boon had beautifully crafted and custom kitchen cabinetry which set the standard of design and durability to this day. Those older cabinets are solid, but they are dark and outdated. And now is a great time to paint your kitchen cabinets to be ready for the upcoming holiday season.
Here are a few reasons why painting your kitchen cabinets is an easy and low-stress home renovation project:
Your kitchen will look and feel larger with lighter, more modern color which adds enjoyment value now and potential home value later.
You save time in THREE ways:
No need to go cabinet shopping
No waiting for new cabinets to be delivered.
Painting existing cabinets requires less time than ripping out the old cabinets and installing new ones.
Your renovation budget is more manageable so you can add new cabinet hardware and freshen your walls, too. Our professional designer can also provide you with ideas and samples to consider adding new countertops and backsplash to complete the entire kitchen renovation.
Let us help you get started on updating your kitchen BEFORE the holiday season. We've been providing professional remodeling with personalized attention for our Atlanta-area neighbors since 1945. You'll work with our permanent, full-time team of seasoned experts and professionals to make your kitchen update project an easy, convenient and stress-free experience. Contact us today to schedule an appointment.
We are so confident in our ability to provide you with an outstanding paint project, that we offer a 36-month warranty. Read more: https://brownlowandsons.com/services/painting-repair/painting-warranty/
* https://www.georgiaencyclopedia.org/articles/counties-cities-neighborhoods/atlanta
** https://www.georgiaencyclopedia.org/articles/arts-culture/urban-sprawl